Reading time 25 mins
I really wanted to start this year off with some blog/reading goals. Challenges are one way to keep me on track.
Challenges I am participating in this year…
Short-ish challenges
(click on the graphics to see my goal and progress posts)
Here is a list of the challenges I have committed to for the whole year in 2015: (click on the graphics to read more about them and see the host pages)
---
YEAR LONG READING CHALLENGES
Goodreads Reading Challenge

Karen Blue has
completed her goal of reading 100 books in 2015!
Read Those Freebies!
I am gonna try to read and review at least 12 books the I have obtained for FREE. I have so many books just waiting for me to read on my kindle and physical copies I have won. I am gonna show those books some love (hopefully) and read/review at least a dozen of them.
(I decided to break the rules on this one, so I won't share the link to the original challenge. The original challenge did not include books from Amazon Prime Early Access. That just sucks because I obtained them free and want to read them for the challenge, oh well. I make my own rules.)
---
This challenge just looked like fun. Read a book with the key word in the title (or close to the key word) pick one.
MONTHLY KEY WORDS:
JAN- Bird, Girl, Ever, Silence, Bad, Truth, End
FEB- Key, Water, Lie, Chase, And, Once
MAR- Kind, Face, Power, City, Blue, Night, To
APR- Dream, Prince, Long, Wind, Rose, The, Rock
MAY- Ash, Road, Thief, Bend, In, Far
JUN- My, Together, Whisper, Win, Soul, Sleep
JUL- Sun, Unto, Energy, Fate, High, Look
AUG- Fall, Boy, Glass, Heart, Lost, Now
SEP- Color, Touch, Life, Day, How, Sweet
OCT- Ghost, Home, Beach, Away, Test, Number
NOV- Rise, Holiday, And, Little, Call, Dark
DEC- Space, Mirror, Over, Flower, Trap, Cold
I hope I can keep up!
I like that this one challenges me to step outside of myself and read a book for the theme. Here are the themes:
JAN– Book to Movie or Audio
Read a book that has a movie based off of it. For an extra challenge, see the movie or listen to the audio book as well.
FEB– Award Winner
Read a book that has won recognition or a literary award.  Here's a list of literary awards to help you get started on your search: Literary Awards.
MAR–  Genre Jumble Read a book in a genre that you've never tried or that you're least familiar with. For example, if you typically reach for romance novels, try a mystery this time. Ask your local librarian for great suggestions on the genre your least familiar with.
APR– Mystery, Murder, and Mayhem

Read a murder/mystery book, a book in which someone dies of mysterious causes, or a book in which the truth must come out.

MAY– Library Love
Show your library some love and visit your local branch. Choose a book to read that they have on display.
JUN–  Take A Trip
Choose a book to read that takes place in a country different than the one you live in or choose a book written by an author that is from a country different than your own.
JUL– Standing Up
Read a book in which the main character stands up for themselves, stands against an enemy, or stands up for something they believe in.
AUG– Alternate Reality
Read a book that's set in the future, on another planet, in another dimension, or in an unknown world. A Dystopian book will count this month as well.
SEP– Furry FriendsRead a book that includes an animal either as a main character or supporting character. Horses, cats, dogs, insects, bird, etc. The book doesn't have to be about the animal but the animal needs to play some sort of role in the story or be mentioned several times throughout the book.
OCT– Goblins, and Ghost, and Ghouls, Oh My!
Cozy mystery ghost stories, paranormal creeptastic, funky fantasy creatures- it's up to you!
NOV– An Oldie but a Goodie
Pick a book published before 2000 that you've always wanted to read, but just never got to. Or pick a book set in the past (before 2000).
DEC– That's a Wrap

Finish a series you've been meaning to finish or read the next book in a series you started but never finished.
---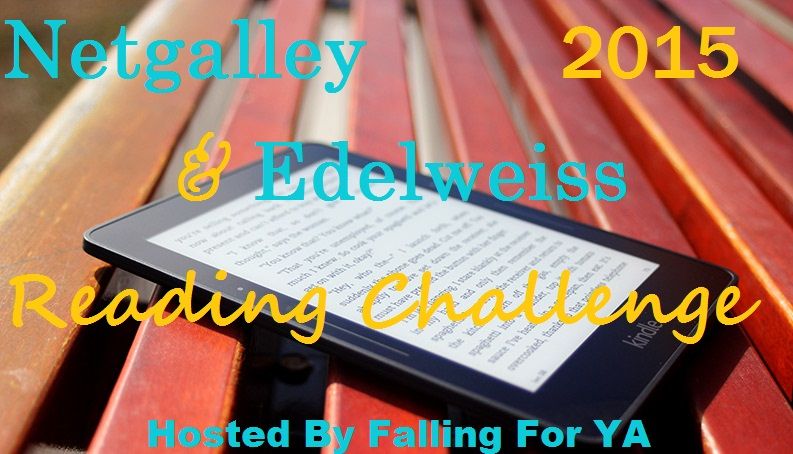 Challenge Guidelines
The challenge will run from Jan 1, 2015 – Dec 31, 2015.
Anyone is welcome to join. You do not need to be a blogger, just post your reviews and come back every month to link them up.
Any genre, release date, request date, length, etc. counts so long as it came from Edelweiss or Netgalley.
At the beginning of each month there will be a roundup post for you to add your reviews.
If you forget to link up one month it's not a problem just add your reviews next month.
If you would like to move up or down levels that is completely fine and at your discretion.
If you have any questions tweet me @FallingForYA or e-mail Emisbookblog@aol.com!
I am definitely doing this one. I feel like my TBR list on Netgalley is out of control. Here are the levels
Bronze – 10 Books
Silver – 25 Books
Gold – 50 Books
Platinum – 75 Books
Diamond –  100 Books
I am going for the Silver this year…I might be more of a Gold by the end of this year, though. We'll see!
Runs January 1, 2015 – December 31, 2015. You can join any time.
The goal is to read at least twelve (12) books from the library. Twelve should be easy, that's one a month. While twelve is the minimum, there is no maximum limit. See the different levels below and pick the one that works best for you.
Any format will work for this challenge (print, ebook or audio) as long as you checked it out from the library it counts.
Books can be any genre (fiction, nonfiction, romance, fantasy, mystery, thriller, horror, etc.).
Crossovers from other reading challenges are allowed, including re-reads. The goal is to support your local library and save money.
To join this challenge, grab the 2015 Snagged @ The Library Reading Challenge button and post this reading challenge on your blog to track your progress. Please include a link back to this sign-up post so others can join the reading challenge too. You do not have to be a book blogger to participate; you can track your progress on Goodreads (so as long as you have a dedicated shelf and Felicia has created a Goodreads group), Shelfari (I've created a Shelfari group. You can join and post your progress within the group), or BookLikes, etc., for the 2015 Snagged @ The Library Reading Challenge. The point of linking up is to have a place where people can see what you're reading.
Levels
Dewey Decimal: read 12 books
Thrifty Reader: read 24 books
Overdrive Junkie: read 36 books
Stalking the Bookstacks: read 50+ books
I got my card! I am looking forward to at least 12 books from the library this year!
 BLOG CHALLENGES
2015 Book Blog Discussion Challenge is hosted by Nicole @ Feed Your Fiction Addiction and Shannon @ It Starts at Midnight.
Here's All You Have to Do:
The 2015 Book Blog Discussion Challenge runs from January 1st until December 31st, 2014.
Sign-ups will remain open until December 31st, 2015 at 11:59 p.m. Central
You DO NOT have to have a book blog to join this challenge. If you don't have a book blog, you may link up to discussions that you've started on Goodreads groups.
Create a sign-up post announcing your intention to participate and link up below. If you do not have a blog, you can link up to your Goodreads profile. There is no need to say what your discussion posts will be about – just tell us that you're joining and let us know what your goal is.
Please link back to both challenge hosts and include the challenge button in your sign-up posts.
Every month, we'll update this 2015 Book Blog Challenge Page with the links to that month's Challenge linky – so you'll always know where to find the latest link-up!
Share it! The more people we get to participate in this, the more awesome discussions we can all be a part of and the more fun it will be! So, invite your friends to join us!
This challenge is to help get us discussing books and book blogging, so talk about whatever you want as long as it's relevant to book blogging. Discussions can be book related or book blogging related (or generally blogging related – no discussions about things that are completely off-topic like travel or fashion, etc). Discussions can also be about you personally if it's a get-to-know-you type post.
There will be a kick-off post on January 1, 2015 on both Feed Your Fiction Addiction and It Starts at Midnight where you'll be able to leave your links for any January discussions. At the beginning of every month, a new post will go up  on both blogs for that month's links.
If you forgot to leave your discussion link in the challenge month in which you posted the discussion or the linky list closed before you had a chance to leave it, you can leave it in a future month. (No duplicates though.)
There will also be monthly giveaways, so make sure you check in each month!
Use the hashtag #LetsDiscuss2015 to share your progress and connect with other participants on Twitter.
Have questions? Feel free to ask in the comments!
The Levels:
1-12 – Discussion Dabbler
13-24 – Creative Conversationalist
25-36 – Chatty Kathy
37-48 – Terrifically Talkative
49+ – Gift of the Gab
I choose option one, Discussion Dabbler. I started a list of discussion posts, so I may exceed the challenge.
Awesome People Share. Be Awesome...