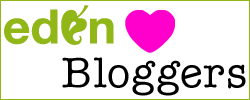 EdenFantasys has an awesome program for writers, you don't even have to have adult content on your site to reap the benefits either. Another cool thing they do at EdenCafe is weekly giveaways. This week it is some Liberator Adventure Gear, next week, who knows? I bet it will be something I have been lusting after at EdenFantasys toy store thou! I have been writing for edenCafe and Eden Lit so some of my writing can be found on other places on the net. Check them out and let me know what you think…..

The one that just posted is about my obsession with Garbage Television. This was so easy to write.
My other post was on edenCafe and it was about the use of the word "Slut". In this one I bared a bit of my soul, so please be kind if it is not in your taste.
Don't worry, I am not gonna quit kissinbluekaren! I have been working for days and days with no time off. We still managed to go out last night, but it was a fail on the swing part. We have had some awesome sex lately at home but I know Miguel has the itch for some strange.
We found a visiting unicorn that looks like she has some potential…..suppose to hook-up later this week hopefully!
Until next time Lovelies, keep it sexy!