Some of you probably know that I am part of a community @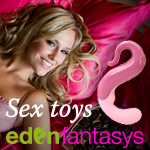 I am really excited to tell you about something new that they are doing on Twitter that gives us the opportunity to win prizes just for showing up!   ……Its a twitter party @edenparties! A twitter party is a chance twice a month, to show up on twitter and socialize with other Eden friends using the hashtag #edenparties. You don't have to be a member of Eden Fantasys to participate either. All you have to have is a twitter account!! At the last twitter party #edenparties they gave away a Wahl, a Treeze Realistic and a $25 gift card.
(if you are curious hit the eden link above and type names of those things into the search query)
At a twitter party you use the hashtag #edenparties and start conversating. Click here and start following! *To make things easier for me I use Tweetdeck, because it keeps track of all the other tweets happening with that hashtag and sorts them out for me.
When is the next Eden Party on twitter?
It is on May 9th at 8pm EST. Just be on twitter by 8pm and start conversating! The Eden Parties are about an hour long and they give away 3 great prizes every time! It is so easy to win. As a bonus I usually make about 5 new acquaintances every party.
So right now…go and follow @edenparties on twitter! Then show up On Monday May 9th and maybe you will win something cool. Don't worry if you are international….they will ship it to you there too, so as long as laws in your area don't prevent you from owning sex toys, you can participate.

They do too! They are a really active community with lots of perks for being involved. The best part is that you don't have to be a blogger to feel the love! In fact, most of the players on this site are not bloggers. They welcome everyone with a passion for adult products. Even if you are just thinking about purchasing some adult products, they will answer alot of questions you may have about adult products. They work closely with many manufacturers, so feedback is wanted and encouraged! Have questions? Leave me a comment of e-mail me directly at [email protected]
Till next time lovelies, keep it sexy!
 This post is sponsored by Eden Fantasys.